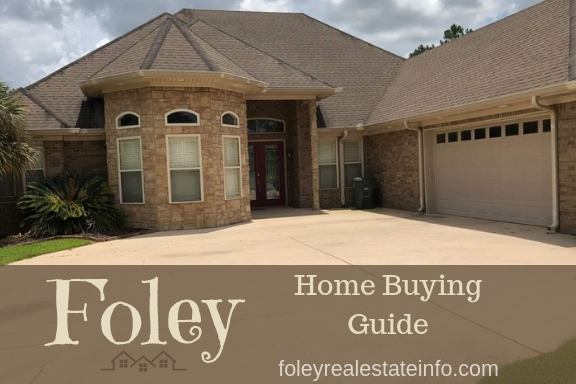 Whether you're a first time buyer or you've closed on several already, real estate isn't something that we think about everyday (unless your'e a Realtor). In all honesty the process takes a lot of coordination and planning, beginning well before you actually start looking at homes. Here you will read about the steps that you'll take to buy a home in Foley AL.
Yes, these steps will work with all areas but since I'm a Realtor in Foley, I'm going to refer to this area specifically throughout the article.
My clients come first at all times. Your interests are top of mind whether you want to buy a home from our MLS or purchase an FSBO. I will never not show you a home because it has a low commission or steer you towards a property that has a high commission for myself. I hope you find the steps below on buying a home in Foley helpful so please reach out to me if you're considering a purchase in this great town.
Let's get moving!
The Foley Real Estate Market
Foley is one of the hottest markets in Baldwin County and there are a few reasons for this. First of all, home prices in Foley are very affordable. As a whole, the average price per square foot here is one of the lowest compared to the other major cities of Baldwin County. Also, the home inventory in Foley really focuses on properties that would be affordable to most people.
In Foley, it's not unreasonable to find a great home in a nice neighborhood from $175,000 to $250,000. Other factors that attract buyers, developers, and builders to the area is it's proximity to the beach (15-20 minutes away) and the abundance of shopping, restaurants, and attractions.
To give you an idea of the growth, we are currently seeing approximately 70 closings per month, just in Foley. That's an astounding figure for this city!
Home Buying Guide for Foley AL
Here are the 6 basic steps that will be covered below:
Have a Strategic Plan
Finances
Visiting Properties
Making an Offer and Negotiating with the Seller
Inspections and Contingencies
Preparing to Close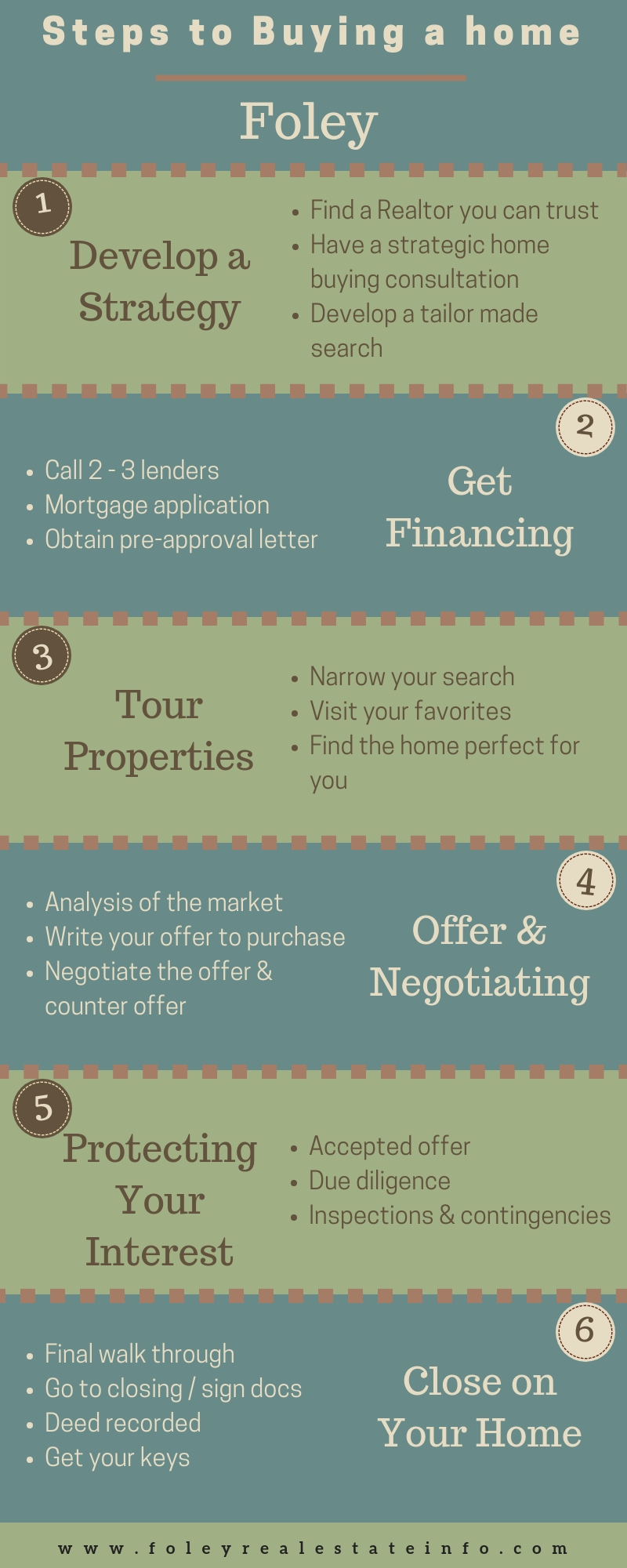 Have a Strategic Plan

Work with an Experienced Realtor
There is a reason why the vast majority of real estate sales in the country close with the assistance of a Realtor (more than likely, two Realtors). It's so much more than just buying a home. It's working with lenders, contractors, the other parties of the contract, setting appointments, and a plethora of other activities that go with being compliant with real estate law.
It's also important to work with an agent who is the right fit for you. You may have two agents who have the same work ethic and professional skills but maybe only one has a personality that better meshes with yours.
This Realtor will be spending a lot of time with you on one of your biggest purchases ever so doesn't it make sense to actually like them?
Benefits of using a Strong Buyer's Agent:
They know their local market like the back of their hand, which will come in handy in getting you the best price.
You never have to physically negotiate with the listing agent or the seller.
That can spot potential red flags that you may overlook like the proximity to undesirable locations, potential mold issues, etc.
They can evaluate your financing terms.
They are experts in real estate law and the Purchase Agreement which will protect your interests during the home buying process.
They already have relationships with other proven professionals that you will need during your purchase like appraisers, home inspectors, and title companies.
They will comply with the time elements of the contract and keep everything on track to close.
There is no cost to you!
Buyer's agents are in homes and practice real estate everyday. Work with someone who has your back, not the agent in the model home or open house. They work for the seller.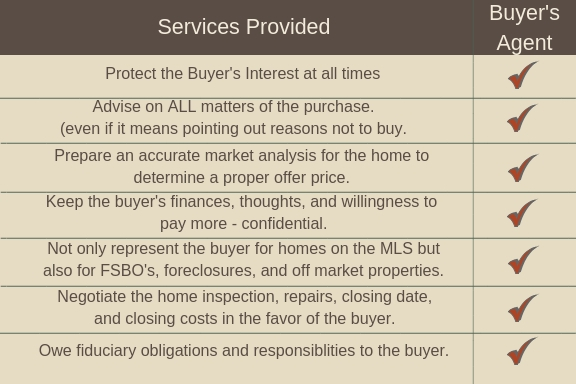 If you didn't know this already, you don't pay anything to get the services of a good, quality Buyer's Agent because all commissions are paid for by the seller at closing. You will have a real estate professional that doesn't work for the seller and only works for you. And, it's of no cost to you!
In-depth Buyer's Consultation
It is imperative for you and the Realtor to have a meeting of the minds and develop a plan of action that is tailor made to you. This will involve some time to determine your needs and wants, discovering how they fall within your budget.
I actually go "old school" writing down on a piece of paper items that you must have in your new home and things that you would like to have in two different columns. We'll talk about the many neighborhoods of Foley, home styles, the size of the lot, and much more.
This saves you a lot of time and brings reality into the equation. You won't be put into a situation where you're wasting efforts looking at homes that aren't a great fit.
After we determine your needs, wants, and budget I will set up a web page for you detailing all of your search criteria. This system is called our Collaboration Center and I think you'll find it most helpful. It's a page dedicated to you that will show you the listings that perfectly match your criteria, giving you the ability to mark homes as a favorite or a reject. You can also send me your comments and share listings to others.
Here's a screenshot of the Collaboration Center…..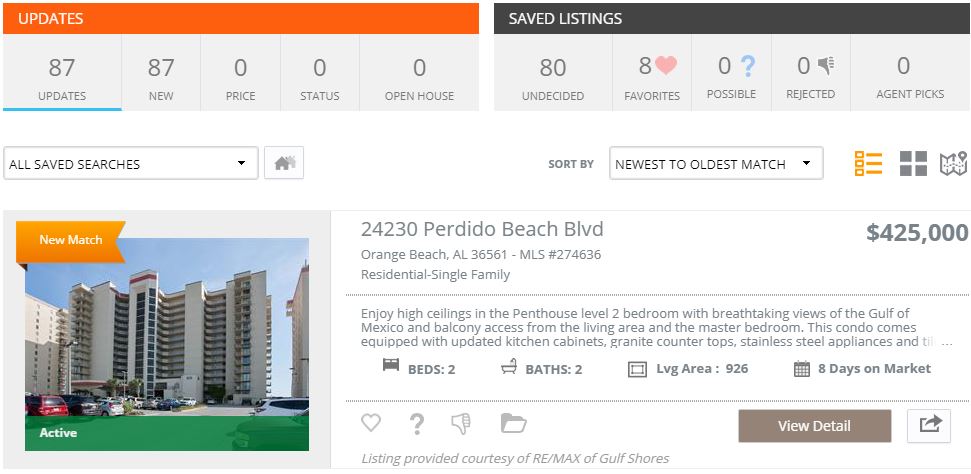 Securing Your Finances
Because financing a home in Foley is such a massive and time consuming investment, you should definitely take the time to interview a few different loan officers to compare not only interest rates but also fees. Since most loans have a 30 year term, you can see why just a 1/4% difference in rate could mean thousands of dollars to you. On the other hand, if you do your due diligence, the money that you may save could be better spent for retirement, college tuition, or projects around the house.
Once you find a lender who you believe will work best for you, you'll want to find out what is the best loan option. Most people know the term "conventional loan" but there are many loan options that could be a better fit for your family.
Factors to consider include are down payment, interest rate, closing costs, loan origination fees, and debt-to-income ratios.
On the flip side of the coin you might be a cash buyer. Believe it or not, you won't be alone with around 30% of buyers in Foley and the surrounding area pay cash for their home.
If this is the case, you'll need to get a letter from your financial institution as "Proof of Funds" to show the seller when you make an offer. You would of course black out any personal information like your account number before handing the letter over.
In either case, getting your finances in order ahead of time will assure that you're absolutely ready in case you find a property that you love in the beginning of your search.
Visiting Properties in Person
At this stage in the process you and your Realtor have already established your needs, wants, and price point. You've also had complete access to every available property that meets your criteria.
Remember earlier when I said the home buying process is all about you? Well it is. You decide what homes that you want to see and when you will see them. It's my job to take that list, organize them, and schedule the appointments that best fits your calendar. I then will accompany you on the showings and advise you on the neighborhood, price, and market conditions.
Making an Offer and Negotiating with the Seller
Preparing an Offer to Purchase can be an overwhelming experience UNLESS you are working with a seasoned buyer's agent. Based on the current market conditions, I'll advise you on price and the many other terms of the agreement. Yes, every now and then we run across a seller who has grossly over-priced their property but that's why it's important to have me by your side.
I know how to determine what the home should appraise for and in our current market, a buyer shouldn't have to pay more than appraised value. When we do move into a Seller's Market, I'll advise you on how to compete with multiple offer situations.
Once you've submitted your offer, the seller will either accept, counter, or reject it. Most commonly, the seller will counter your offer. The good news is that you won't have to negotiate with anyone. You and I will have a confidential conversation and I will then work for you to get you the best possible price and terms.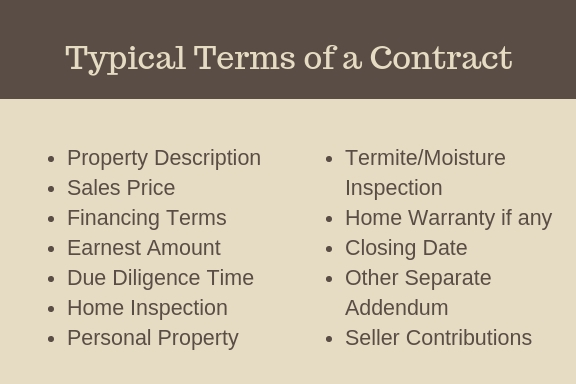 Inspections and Contingencies
There is a lot of paperwork when it comes to buying a home and the amount of paperwork seems to grow every year. The Purchase Agreement is 12 pages on its own! Then you have any number of addendum pages, removal addendum, repair requests, disclosures, and contingencies.
The best way to describe a real estate contingency is this. A contingency is something that has to be completed before something else happens. For instance, with a home inspection contingency, the inspection must be completed and repair requests agreed on by both parties in order for the contract to go to closing.
Another key factor with contingencies is that they all will have to be satisfied within a particular time period. If the contract says that the inspection and repair requests are to completed in 10 days, you have to abide by the 10 days. Keeping up with the various time constraints is also one of the important jobs that I have during your home buying process.
Preparing for Closing Day
It always gets very exciting as you near your closing date. The stress of packing or wondering if the seller is going to accept your terms is over. All of your contingencies have been satisfied.
There are a few things though that you have to tidy up just before the big day…….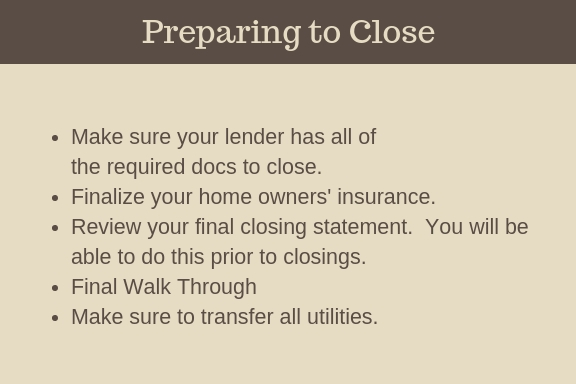 The Final Walk Through is the last step before closing that protects your interests. Just before closing day, we will walk the property one last time to make sure that all repairs were made (if any) and that no new damage was created while the sellers moved out.
Closing day is fairly simple. Bring all buyers on the contract, bring your driver's license, sign the docs, and get your keys.
Congratulation, you made it!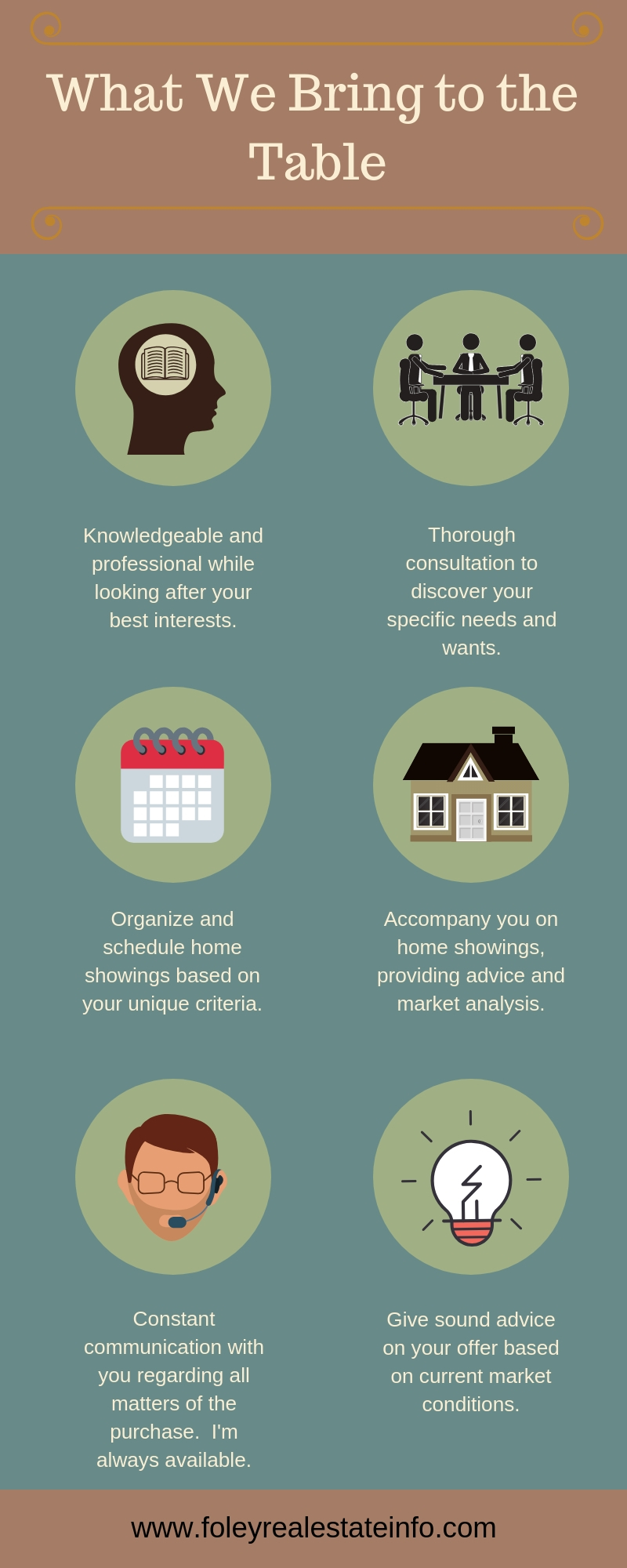 Thanks for taking the time to read about buying a home in Foley. If you are considering a move, please contact me from the information below.