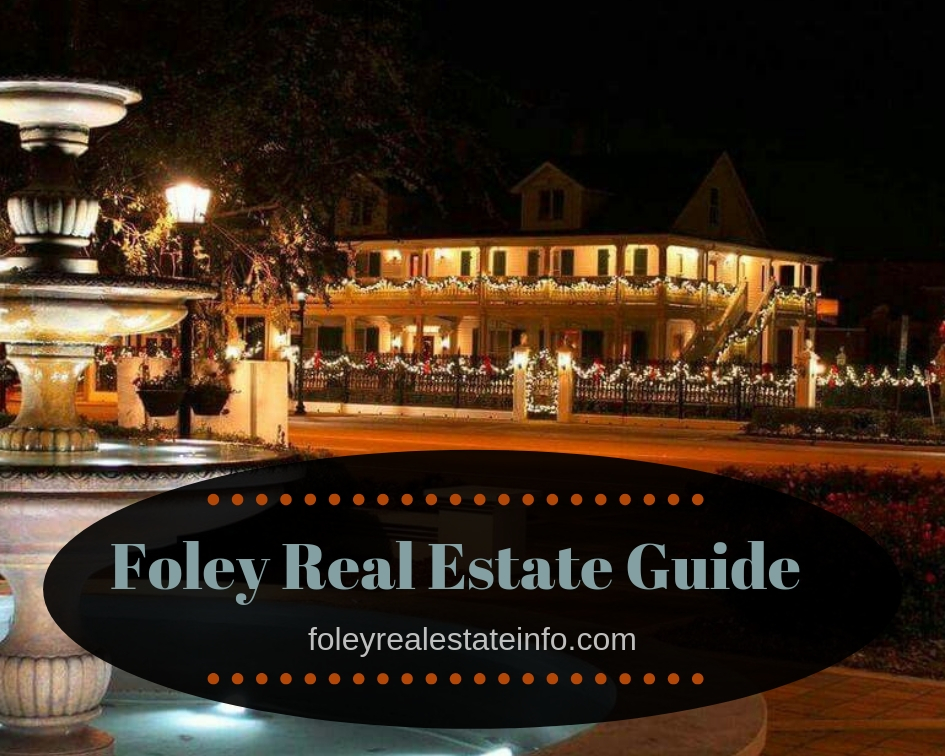 This comprehensive guide about the Foley area and real estate market is brought to you by Jeff Nelson of IXL Real Estate – Eastern Shore.
If you're a buyer or seller and have any questions about Foley AL (or more specifically the real estate market in Foley), get in touch with me. I've been selling real estate for 13 years and would love the opportunity to share what I can do for you. If you're moving to Foley from across town or from another state you will surely love this place. Home prices are low, the people are warm, and the beautiful beach is just a few minutes down the road.
Foley is the 3rd largest city in Baldwin County, located just north of Gulf Shores and the Gulf of Mexico. Foley is bordered by Magnolia Springs to the west, Elberta to the east, and Summerdale to the north. According to Wikepedia, Foley has a total of 31.93 square miles and has had 92.6% growth since 2010. The population is 18,288 as of 2017.
Here Are the Topics That You'll Find Below:
How the Foley real estate market is looking now
Steps to take for home buyers and sellers
Neighborhoods that are in demand
Condo complexes that are in demand
Housing and population statistics
Foley weather
The economy in Foley
Population by Occupation
Foley schools
Colleges and universities
Educational statistics
Hospitals and medical centers
Foley parks
Restaurants
Real estate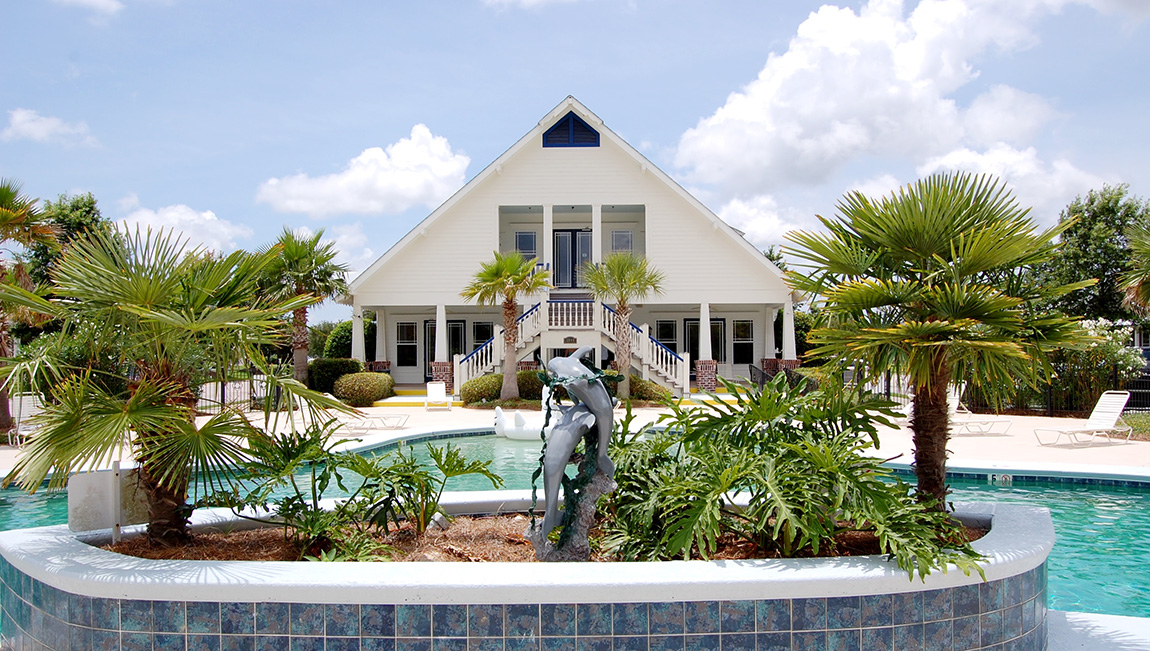 Cottages on the Greene – Pool and Clubhouse
The real estate market in Foley is one of the strongest in Baldwin County. The biggest reason for this growth is two-fold: It's proximity to the beach and the availability of affordable homes. This two punch knockout is driving demand through the roof which is encouraging new developments all over town.
The Craftsman Ranch will be the predominant home style that you'll find but there are also a few condo communities, large multi-story homes, and waterfront properties.
Below you'll find recent real estate market conditions as well as information about the most popular neighborhoods and condo complexes in Foley. Again, if you're in the market to purchase a new or existing home in Foley, please reach out to me.
Foley Real Estate Market Conditions
Single Family Homes for Sale
| | | | | | |
| --- | --- | --- | --- | --- | --- |
| # of Units | Median List Price | Highest | Lowest | Ave Square Feet | Price Per Foot |
| 243 | $219,999 | $1,900,000 | $74,000 | 1,987 | $133 |
Single Family Homes That Recently Sold
| | | | | | |
| --- | --- | --- | --- | --- | --- |
| # of Units | List Price | Selling Price | Highest | Lowest | Price Per Foot |
| 152 | $207,533 | $201,810 | $480,000 | $17,500 | $107 |
Condos for Sale
| | | | | | |
| --- | --- | --- | --- | --- | --- |
| # of Units | Median List Price | Highest | Lowest | Ave Square Feet | Price Per Foot |
| 370 | $494,400 | $3,299,00 | $155,000 | 1,562 | $355 |
Condos That Recently Sold
| | | | | | |
| --- | --- | --- | --- | --- | --- |
| # of Units | List Price | Selling Price | Highest | Lowest | Price Per Foot |
| 7 | $216,000 | $220,921 | $300,800 | $118,000 | $130 |
So 159 residential properties were sold over the last 90 days, which is 1.7 closings every day (including Saturday and Sunday). That's not too bad considering that Foley is not that big of a city and at the time of this writing, we're in the off season.
Also, notice the price per foot for single family homes. Currently $107 per foot is the lowest in the county. Like I said earlier, affordable home prices are really attracting new buyers to the area for full time residence as well as for a second home.
What's not listed above is the listing to selling price ratio for Foley, which is 97%. This means that in general, buyers are able to realize 3% off of the list price. Foley is still in a buyer's market.
Search All Homes for Sale in Foley By Price
$100,000 to $200,000 – $200,000 to $300,000 – $300,000 to $400,000
$400,000 to $500,000 – $500,000 to $600,000 – $600,000 to $1,000,000
Contact me if you're wanting to buy a new home. I'll work hard to get you the best possible price for your home.

11 Steps to Buying a Foley House
Settle on a Budget
Work with a Realtor
Become Pre-Approved for a Loan
Establish Your Needs and Wants
Search for Your Next Home
Write an Offer with Your Realtor
Finalize Your Mortgage Loan
Contingencies and Terms of the Contract
Set Up Your Utilities and Finalize Insurance
Final Walk Through
Close on Your House
For a complete explanation of these steps please visit our sister site, 11 Steps to Buying a Home.
9 Steps to Selling a Foley House
Coming to the Conclusion to Sell
Prepare Your Foley Property to Sell
Use a Realtor
Come Up With a Proper Price
Marketing
Showing Your Home
Negotiating the Deal
Working Through the Contract
Closing Time!
Read more about these steps here, 9 Steps to Selling Your Home.


There are many brand new and existing neighborhoods in Foley but listed below are the areas that currently have the most real estate activity in recent months.
Click on these neighborhood links to see more information and active homes for sale for that subdivision.
Abbey Ridge – This neighborhood offers brand new homes for sale at a great price point. Where can you buy new construction for $99 per foot? Well, you can in Abbey Ridge of Foley! The average selling price is approximately $170,000.
Ashford Park – Here's another example of a great neighborhood with easily affordable prices. Ashford Park is providing new and fairly new homes at prices under $200,000. Price per foot is $99.
Cypress Gates – You'll find well-appointed, affordable homes with an open floor plan and clean design. There are brand new and existing homes available at the time of this writing. The average selling price is around $205,000.
Cottages on the Greene – Another new subdivision located near the Foley Beach Express for an easy commute to work. This is an attractive neighborhood with metal roofing and open floor plans. Cottages on the Greene is gated and has nice amenities that include an outdoor pool, clubhouse, game room, BBQ area, and exercise room. The average price per square foot is $114.
Hidden Lakes – Brand new and almost new homes in this secluded neighborhood, located on the west side of Foley. You'll find quality construction by DR Horton at an affordable price. You'll see 3 and 4 bedroom options at around $96 per square foot.
Magnolia Place – This neighborhood offers a few existing properties but most of the homes are new and built by Truland Homes. The subdivision is located in the northwest section of Foley, close to Magnolia Springs. You'll find homes priced between $140,000 and $210,000.
While looking at these featured neighborhoods, the common denominator is new construction. Again, these are just a few of the many growing areas in Foley.
Please contact me if you are buying or selling a home in Foley.

Foley real estate offers mainly single family home dwellings but there are a few condo complexes. Here they are…
Lakeview Villas – These condos have more square feet than what you would expect and are priced at an average of $108 per square foot. This complex is part of a multi-subdivision community around GlenLakes Golf Course.
Park Avenue – This complex offers 2 and 3 bedroom options around $150,000. What a great price point! The 2 bedroom units have 1,049 square feet and the 3 bedroom condos offer 1,251 square feet. Located near the YMCA and Foley High School.
Sea Pines at Bon Secour – This is Foley's newest condo community offering high end finishes, European design, and great amenity package. The units have 1,820 square feet with 2 bedrooms and 2 full baths. The average price per square foot is $144.


The population of Foley 18,288 with a density of 573 per square mile. The median age is 50.2 and 89.1% are married. The annual growth rate is currently at 3.32%.
As mentioned before, population is on the rise in Foley because of low home prices, which is evident from the section above. Plus, homeowners can be at one of the best beaches in the country within 15 to 30 minutes, depending on where they live in the city.
Other Real Estate Stats
As of 2017, there were 9,063 households with a 67.3% home ownership rate. The median home value is $200,524 and there is a 6.6% vacancy rate.
The average annual appreciation rate since 2000 has been 2.48%.
42.5% of the homes were built from 2,000 until the present and 54.9% of Foley homes have 3 bedrooms.

Here are the annual weather averages for the area. The hottest time of year last from May 23rd through September 27th with an average daily high of 84 degrees. The hottest day of the year is July 23rd, averaging 90 degrees.
The coolest time of year last from December 3rd through February 28th with an average of 67 degrees. The coldest day of the year is January 29th with an average high of 61 degrees.
The wettest time of year is the 31 day period surrounding July 21st.

Foley is often considered the "gateway to the Gulf of Mexico" with over 6 million people driving through Foley each year to visit our beach. Needless to say that a bulk of Foley's economy comes through tourism but the city is in a constant of recruitment for new businesses, developer, and retirees.
Among hundreds of other businesses, Foley is home to Tanger Outlets and the new OWA Family Theme Park.
| | | |
| --- | --- | --- |
| Index | Foley | National |
| Income per capita | $23,753 | $28,555 |
| Median income | $53,304 | $65,443 |
| Unemployment | 5.5% | 5.2% |
| Poverty level | 13.27% | 15.1% |
| Future Growth | 38.1% | 38.0% |

Construction – 6.9%
Manufacturing – 5.6%
Wholesale Trade – 1.1%
Retail Trade – 20.1%
Transportation & Warehousing – 2.1%
Information – 1.5%
Finance and Insurance – 3.4%
Real Estate and Leasing – 5.5%
Professional, Scientific, and Technical – 6.4%
Administrative – 7.0%
Educational Services – 5.6%
Health Care – 9.4%
Arts, Entertainment, Recreation – 1.9%
Accommodation and Food – 10.2%
Other Services – 5.3%
Public Administration – 4.5

There are 5 Foley public schools serving a total of 5,109 students. The student to teacher ratio is 14:1. There are also 2 private schools and 1 post-secondary school.

Fortis College
200 East Laurel Ave Foley
305 students
Columbia Southern University
Orange Beach
14,996 students


High School Graduate – 28.99%
Some College – 25.19%
Associates Degree – 11.35%
Bachelors Degree – 17.66%
Graduate Degree – 8.53%

Community Hospice of Baldwin County
2770 S McKenzie St Suite C
South Baldwin Regional Medical Center
1613 N McKenzie St
Golden Living Center
1701 N Alston Street
FMC Foley
230 E Fern Ave
South Baldwin Dialysis Center
150 W Peachtree Ave
Mid-South Home Health
1390 N McKenzie St.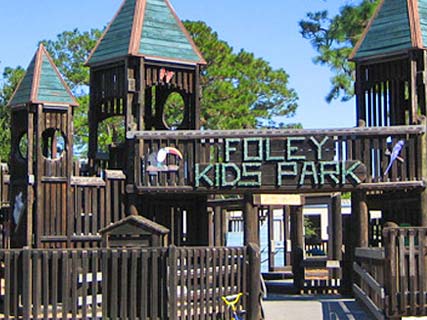 Graham Creek Nature Preserve
This 484 acre park is a natural staple of Foley and brings an array of activities for your family. You'll find hiking trails, canoe launch, 3 disc golf courses, an archery range, and picnic areas.
Wolf Creek Park
A 20 acre park with fishing pier, canoe/kayak launch, and picnic area. Located on Hance Lane.
Foley Dog Park
The dog park offers separate areas for large and small dogs with water and pet station supplies. You'll find benches and shade to relax while your dogs play. Open sunrise until sunset.
Wilbourne Antique Rose Trail
Take a tour of hundreds of roses of all shapes and sizes. Starts on Violet Ave and runs south to Myrtle Ave in downtown Foley.
Heritage Park
Heritage Park is a very visible landmark in downtown Foley. This 6 acre park is home to the Model Train Exhibit and the Foley Depot Museum. It's also a venue for many events throughout the year. Located near the pedestrian boardwalk.
John B. Foley Park
Sits next to Heritage Park with more beautiful flowers, trees, and a fountain.
Melvin Roberts Park
Outdoor activities area that includes a pavilion, basketball court, tennis courts, trail, and playground equipment. 901 N Cedar Street
Max Griffin Park
This park is home to the first public pool in Foley which open during the summer. 300 Roosevelt Ave.
Foley Kids Park
Built and funded by local citizens, this is a favorite for all the kids. 300 Roosevelt Ave.
Foley Skate Park
Located at Max Griffin Park. You'll find 6,000 square feet of skating fun that includes a half pipe, stairs, grind rails, and 2 quarter pipes.
Aaronville Ball Park
Softball and baseball fields with a covered gazebo. Located off W. Michigan Ave.
Florence B. Mathis / Aaronville Pool
Playground and pool located on S. Cedar Street.
Beulah Heights Park
Softball and baseball fields, playground equipment, covered pavilion, basketball and tennis courts. 809 E. Jefferson Ave.
Raymond C. Christensen Sportsplex
Includes 10 baseball and softball fields, playground. Located at 1250 Cater Lee Way.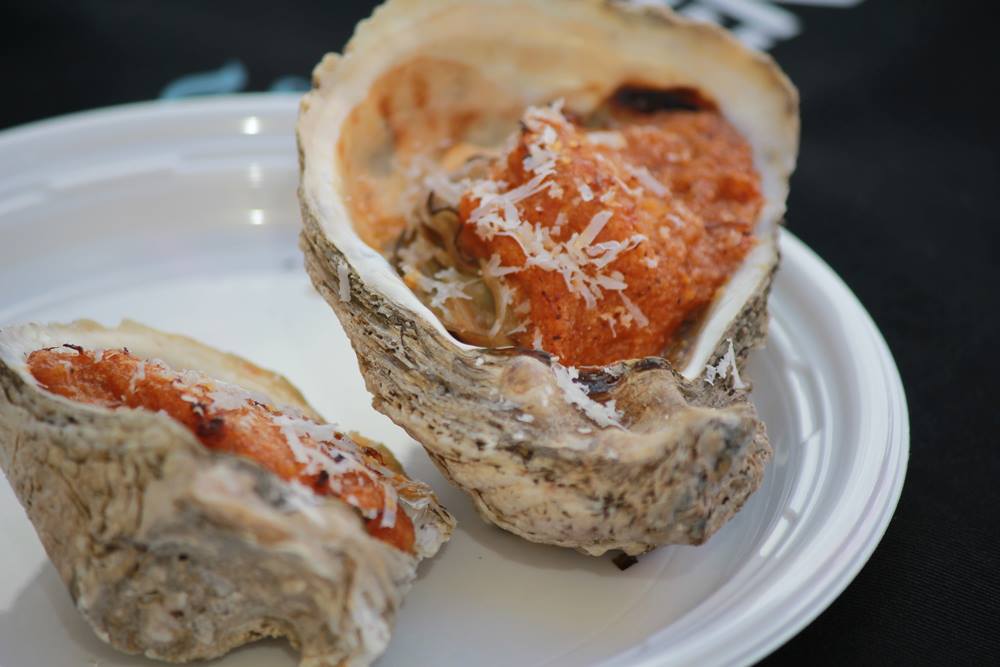 Foley AL has a plethora of places to enjoy good food but here are the top 10 choices according to Yelp.
| | | |
| --- | --- | --- |
| Lambert's Cafe | 2981 S McKenzie St | 251-943-7655 |
| Fish River Grill 2 | 608 S Mckenzie St | 251-952-3474 |
| Wolf Bay Lodge | 20801 Miflin Rd | 251-987-5129 |
| Wahlburgers | Downtown OWA | 251-378-2827 |
| Portabellas | 321 S McKenzie St | 251-943-7773 |
| Jesse's Restaurant | 14770 Oak St | 251-965-3827 |
| Desmond's Taste of Jamaica | 214 W Laurel Ave | 251-970-3287 |
| Gelato Joe's | 202A E Michigan Ave | 251-971-5637 |
| Shrimp Basket | 1500 S McKenzie St | 251-943-6643 |
| Down South Barbeque | 19891 County Rd 10 | 251-955-6622 |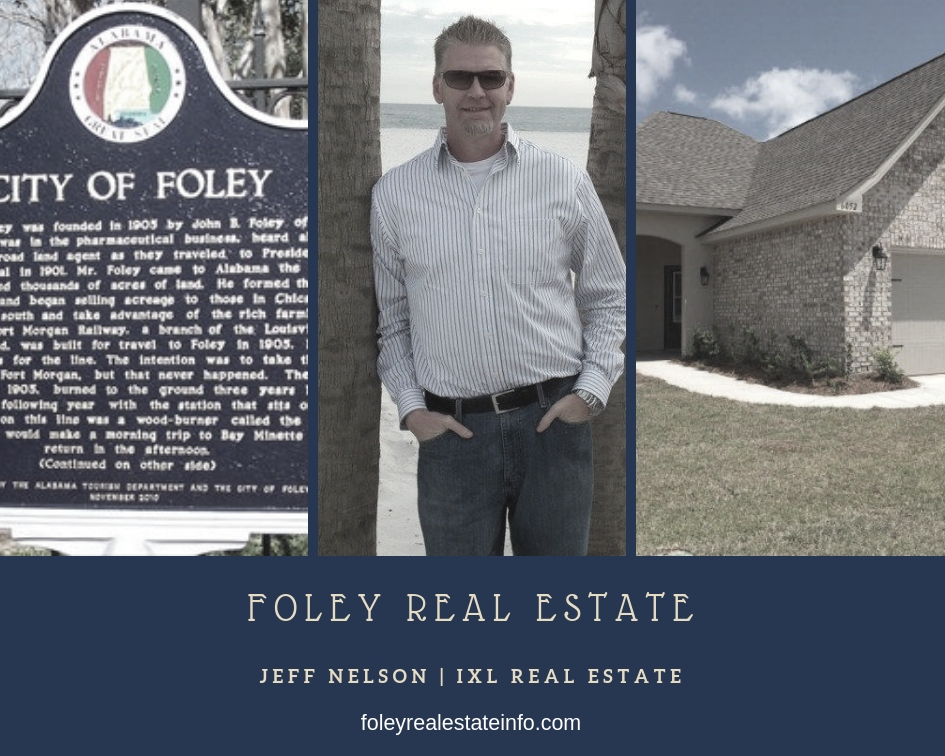 Your Foley AL Realtor
For more information about Foley and the real estate market give me a call or send me an email from the information below. I'd love to field your questions and go over any concerns that you have.
I have a passion for real estate and lower Alabama. I treat all of my clients the same way that I like to be treated. So the best efforts will be given to increase your bottom line and to make the whole process as seamless as possible.