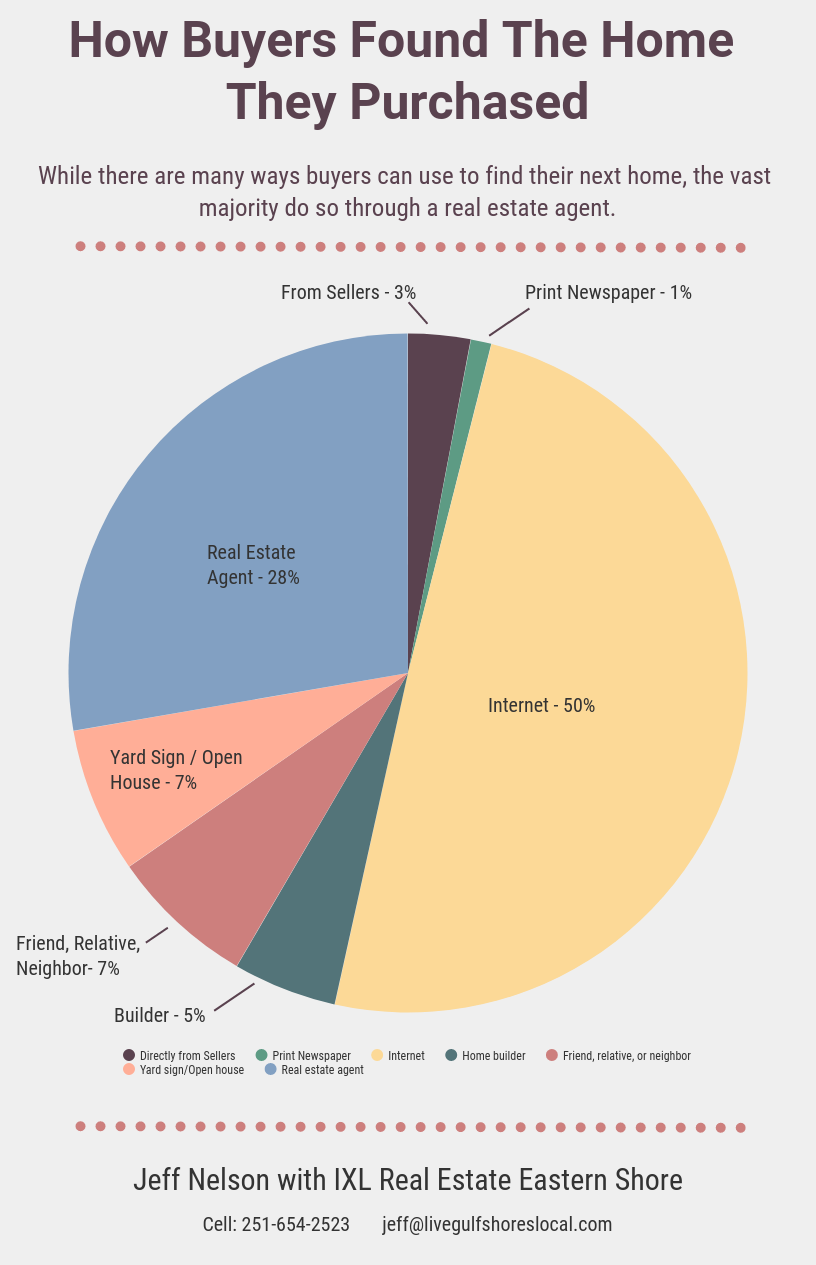 How Buyers Found the Home They Purchased
From a National Association of Realtors survey we find that the majority of home buyers will use a real estate agent to find their next home. This is easy to understand since so many utilize the internet to start their search.
Some Thoughts On Other Ways Buyers Find Their Home
From the Seller
Most of the time, this happens when a buyer either already knows the seller or the property is For Sale By Owner. The problem that arises here is that both parties are likely not well-versed in selling real estate so a number of things could go wrong like missing deadlines or not getting important documents to the right channels.
Print Advertising
Nowadays, print advertising is considered "old school" and rarely do home buyers choose this way to look for a property. Studies have shown that around 95% look for homes online before buying.
Open Houses/Yard Signs
Yes, an Open House works from time to time but it's not the preferred way to house hunt for most people. Today a home buyer can easily look at properties from the convenience of their couch, making decisions from a wealth of information and pictures that they can find online.
Yard signs also work for some but there is a problem with this. Many home buyers don't realize how "representation" works in real estate. The agent who is on the yard sign represents the best interest of the seller and a buyer should use someone who has their best interest in mind – a buyer's agent.
The Builder/Model Home
Finding your home through the builder or by walking through the model home is the same as calling a yard sign. You are dealing directly with the seller or their agent. You need to always work with your own agent so they can help you get the best terms and price.
Are you thinking about buying a home in Foley?
If so, this site is perfect to learn more about this fast growing town along with getting the most up to date real estate information.
SEARCH ALL HOMES FOR SALE IN FOLEY BY PRICE
$100,000 to $200,000 – $200,000 to $300,000 – $300,000 to $400,000
$400,000 to $500,000 – $500,000 to $600,000 – $600,000 to $1,000,000