6 Turn-Offs to Avoid When Selling Your Home
Let's face it, buyers are picky when they get into home buying mode, as well they should be. They're are getting ready to make a a financial decision that will remind them on a monthly basis that they owe a lot of money.
Sellers are also doing everything they can to attract a buyer to choose their home. Sometimes there is so much to think about like picking a Realtor, repairs, coming up with a price, etc… that they often overlook some vital factors that can shut down the sale in a heartbeat.
Here are a few of them…..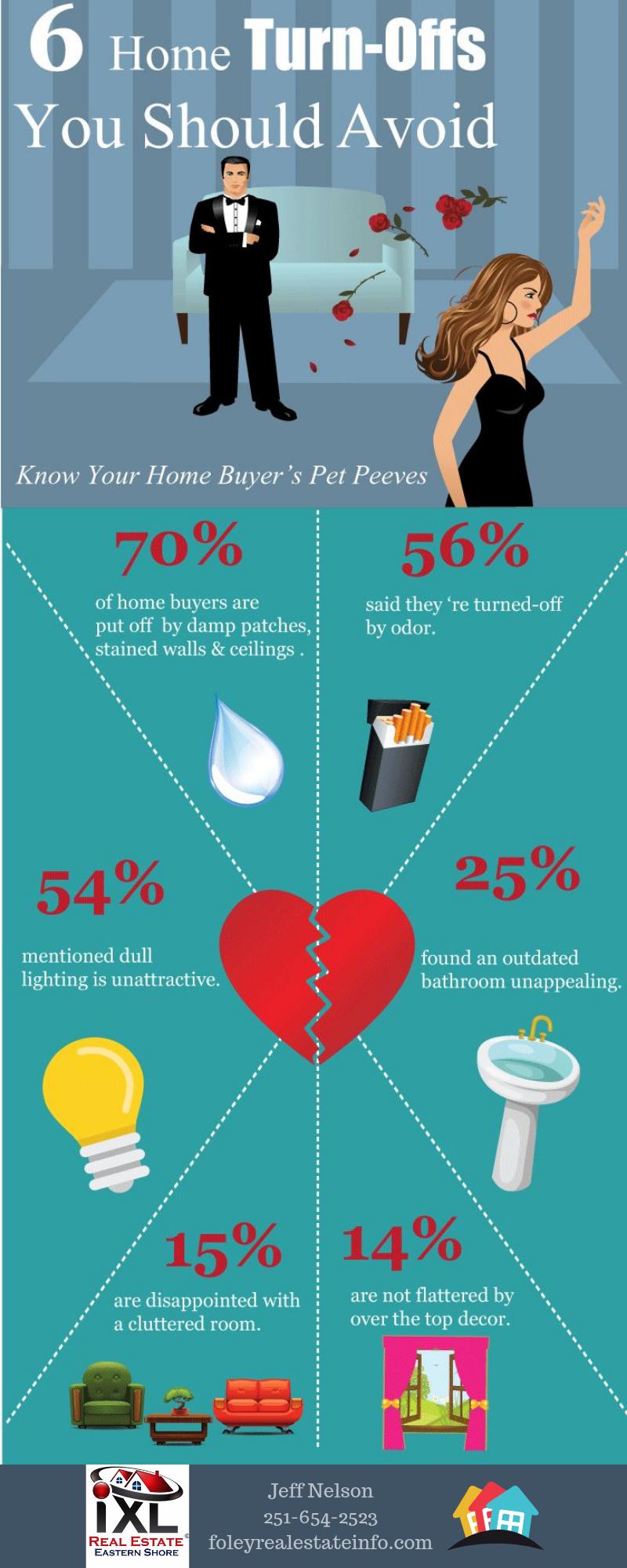 Stains & Watermarks
Home buyers will notice every little detail about your property (down to the stain in the carpet that you thought was covered by the coffee table). So, when there is obvious evidence of water damage, your potential home buyer will shut down mentally.
As good as your home probably looks, they will not be able to get over the fact that you had a leak and wonder if it's active or not.
By pass this problem by walking into each room and scrutinize all of the walls and ceilings for blemishes, cracks, and discoloration. If the leak has been fixed and the watermark is dry, simply use a primer on the area with a product like Kilz, then paint over with finish coat.
Bad Odors
There's nothing that shocks the senses more in a home than a horrible smell. The "nose blind" commercials that we see on TV are so true, so you may need to have a close friend walk into your home to give you an objective opinion about how good or bad your home smells.
Don't lose a potential buyer because your house smells like:
animals
urine
food
over the top fragrances
There's a product called Odoban that does a great job of totally eliminating problem smells and can be picked up at Walmart or places like Home Depot.
Dark Rooms
The majority of home buyers will prefer light and airy spaces. Do yourself a favor by bringing in as much natural light as you can by opening the curtains and blinds (especially for showings). Dark and gloomy rooms will turn off buyers and the goal is to attract them, not repel them. You also may want to consider repainting the walls to a lighter color palette in order to brighten things up.
Outdated Bathrooms
People spend a great amount of time in the bathroom so they take this space very serious. Getting into a major bathroom or kitchen remodel can get pricey so after analyzing the budget, do what you can to bring these areas up to par. Yes, converting the tub to a tiled shower can break the bank but you could change out the vanity, paint, and change the lighting for much less.
Clutter
Cluttered spaces are the enemy when trying to sell your home and they will definitely turn off buyers. This, however, is an easy fix. The bottom line is that you want to create a room that highlights more usable space with clean sight lines from one room to another.
Take out personal items like family pictures, your trophy collection, mounted animals, collectibles, and anything that will take the buyer's mind off the house itself.
Over the Top Decor
I realize that home decor is taste sensitive but when you are selling your home, you want to appeal to the masses. Think neutral! Crazy colors, too many plants, and strange patterns will only turn off buyers from taking the plunge to make an offer. Always remember that you want the buyer to remain focused on the property itself, not on your own personal tastes.
Other Resources for Turning Off Home Buyers: