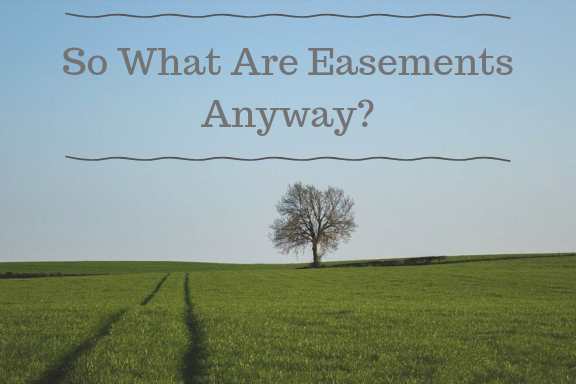 A lot of people have heard of the word easement but may not be totally sure of what it means. Well, an easement gives someone the right to use an owner's land for a specific purpose. Plus, although a portion of their land can be used by someone else, the owner still holds title to it.
Easements can effect you in a positive way, negative way, or not make any difference to you at all. Either way, you should always know if your property has an easement and what it means to you.
What are some examples of easements?
One of the most popular types of easements have to do with utility companies that are usually formed during the development of a subdivision. You'll see easements to service things like electrical poles, sewer lines, water pipes, phone lines, gas pipes, and cable tv lines.
Another example of an easement isn't as common but you may see it from time to time (especially in rural areas). Sometimes, you may have to drive over your neighbor's land in order to get to your own property. Your neighbor owns the land that your driveway crosses over but these easement allows you from being land locked.
Both of the above examples are easements with permission by the owner of the land. The example below is an easement without open permission.
When someone uses a portion of your land without your permission it's called a Prescriptive Easement. This can happen with property ownership and the legal test for a Prescriptive Easement is that it must have the following:
In the open and not a secret
Clearly observable
Without the property owner's consent
It must be continuous and not interrupted by the property owner for a number of the years allowed by the state. For example, in Alabama, the continuous use must be for at least 20 years
A Prescriptive Easement is also known as "squatter's rights".
Easements can be private as well as public. For instance, in our area of Gulf Shores and Orange Beach, there may be public easements on property owners' land that allow the general public to access the beach and the Gulf.
Your Rights
It's important to do your research when buying real estate if you suspect there's some kind of easement present. The chances are high that you will have to abide by the rules of the easement. For instance, if you fall in love with a property then find out that the neighbor has been using it for years in some way, you'll more than likely have to continue to let them.
Easements can be challenged but it will have to be done in court. It doesn't mean that you will get your way but you do have the right to challenge it. Because there are so many variables that run with easements, you should consider having an up to date survey done on the property and hiring an attorney if an encroachment is suspected.